The Category 5 Hurricane Dorian that decimated both Abaco and Freeport caused catastrophic destruction and devastation, both in terms of infrastructure and the human toll.  Those that survived have had their lives turned upside down.  We cannot nearly begin to imagine living through that storm and the aftermath.  We can, however, try to help get the effected areas built back up as quickly as efficiently as possible.
Here at TMC, we see a few avenues we can help:
Relief
Immediate Material Needs

We can supply factory direct roof and wall panels, fasteners, trim, and secondary structural members (girts/purlins) with a fast turnaround time.  Please get in touch with us if you have a building that could use a few temporary fixes to get back into business.  We can supply most panels, including those from competitors, that will be a close match.

Rebuilding

We can work to evaluate your existing structures and damage and provide a turn-key quote to repair damages as best as possible.

New Construction

TMC can design and build new steel structures.  All of our buildings exceed the Bahamas Building Code requirements and we work with the architect, engineers, and general contractors to ensure the entire system is designed to withstand the severe loads that hurricanes can impose.

Discounted Building & Material Costs

The Bahamas is already providing for duty-free building materials and a host of other tax benefits.  We have discussed with Star Buildings about getting discounted material rates and expedited design and manufacturing schedules to get projects on the ground and installed as fast as possible.
TMC is
a 100% Bahamian company.  We have been a Star Building Systems distributor for almost 20 years, and consistently receive builder awards.  We sit on Star's Presidential Advisory Committee, a select group of builders from around the US, Canada and the Caribbean that help Star provide a better product.  We have sent out a request for financial support from all of our colleagues and builders in the Star family, and many have generously supported directly to the NGO's we shared above.
We can design/build to exceed 200mph wind speeds.  We currently are installing two buildings in the British Virgin Islands (BVI) that are 200mph rated facilities.  All of our products meet Miami-Dade requirements.
We galvanize all of our secondary material, standard.  This provides for a much longer life and stronger connections over the decades.  We can also galvanize the main-frames, which increases the life of the building, especially in our coastal climates.
We use 24ga minimum materials.  Standard is typically a thinner 26ga, this increases the lifespan of the roof panels, wall panels, and trim.  Many buildings we have 22ga panels on, and the increased cost is not that significant compared to the benefit.
We can provide additional wind-driven features.  Stainless steel fasteners, additional bracing, extra fasteners, as needed to ensure the fortitude of a new build.
A word of Caution:
In the rebuilding effort, many businesses will be approached by (or approach) various steel building suppliers, dealers, and manufacturers.  Be wary of what they promise and any fast-sell techniques.  In this industry, there are no "last-minute specials" or the need to "place a deposit to get the best steel price".  Many will try to get you to buy a rock-bottom building and pay for any "upgrades" which may even be required to meet the minimum building code requirements.  We see plans come across our desk all the time that do not meet the Bahamian building code, but because someone has paid someone along the way, they are allowed to be built.  We have lost jobs over the years only to see their cheap buildings destroyed in lesser hurricanes, such as when Irma and Matthew came through Nassau.
Please feel free to contact us to discuss any immediate or long term needs you may have.  Our office is 242-394-3410 and our email is info@steelbahamas.com
We hope for a speedy and safe recovery of all the islands, from Marsh Harbour to Treasure Cay and all of the Abaco Cays, and from the East End of Freeport to the West End.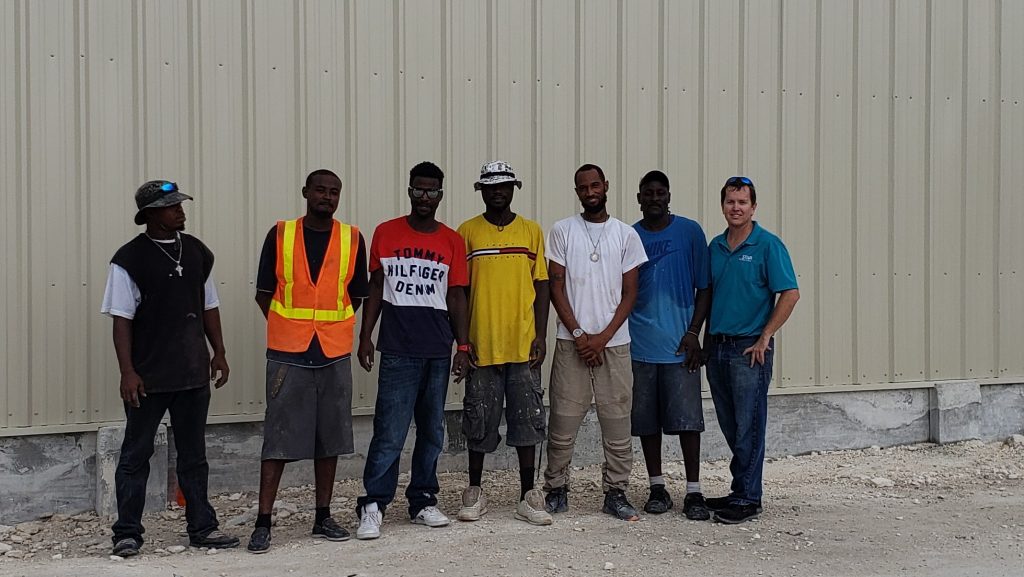 A part of our 100% Bahamian crew in Eleuthera at the site of our reverse osmosis facility.  This building is rated to 185mph, Exposure D.